Opening Times
Monday 9:00 am - 5:00 pm
Tuesday 9:00 am - 5:00 pm
Wednesday 9:00 am - 5:00 pm
Thursday 9:00 am - 5:00 pm
Friday 9:00 am - 5:00 pm
Saturday12:00 pm - 4:00 pm
Tel: 0121 706 2473
Fax: 0121 707 3901
PDF Brochure Downloads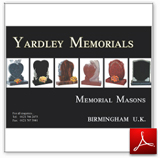 Main Brochure Hi Res.... 5825 kb
Main Brochure Low Res. 2728 kb
Yardley Memorials (Granite Stone Colours)
We offer a wide range of memorials to choose from. Granite for example is a durable stone that will retain its beauty without fear of significant weathering or deterioration and is available in many colours.
Please review the charts below and choose your colour.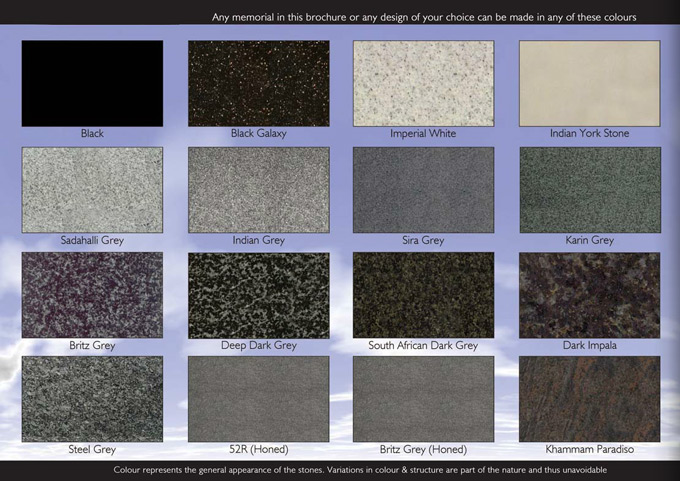 We pride ourselves on personal service and customer care. So if you have any queries not answered by the web-site, then please give us a call or drop us an email.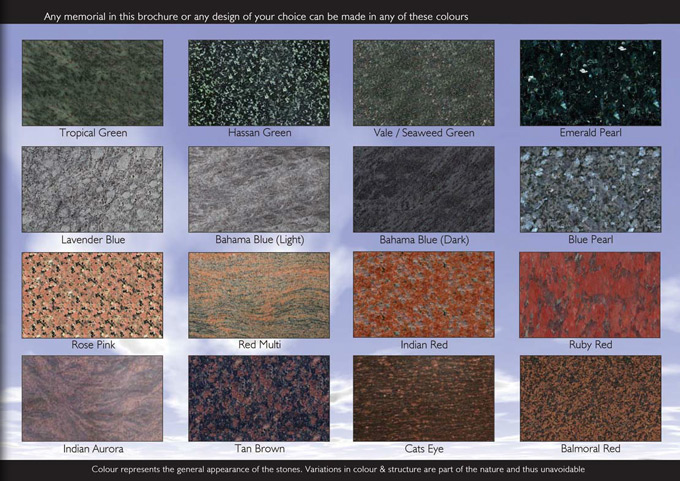 *** PRICES ARE QUOTED ON AN INDIVIDUAL BASIS ***
Click here for full Catalogue